A DVCS survey went out recently to GNOME SVN committers, and the results came out a couple days ago. There is much nuance to pull out of the data, but I think that it's fair to say that the respondents prefer git.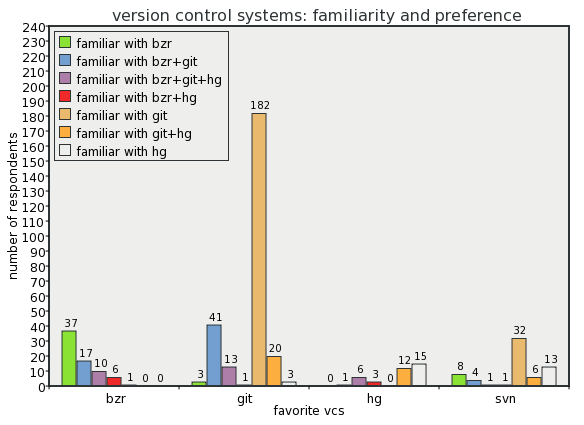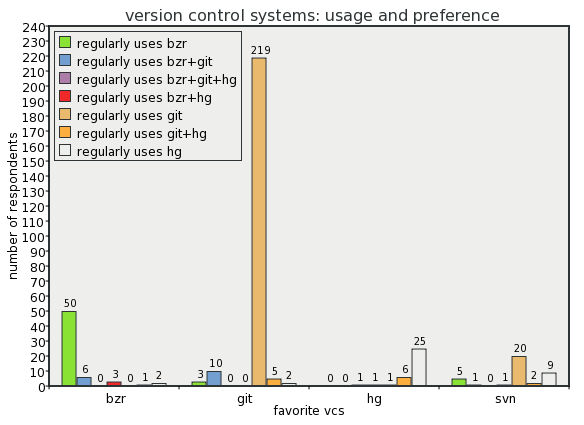 (Script here, requires latest guile-charting from bzr.)
The survey was not posited as a referendum on whether or not GNOME should switch to a particular DVCS, but it certainly sheds light on the question.
Unfortunately, the resulting thread on desktop-devel has been quite nasty -- there are a lot of very legitimate concerns coming out, but even Behdad (whom I respect) at one point took an entirely reasonable post as a personal attack.
This is looney.
We're not here to win some kind of victory over each other, to turn other people into losers -- we're here to build something that's bigger than we are. We should remember this when we communicate. We should read at a deeper level to find out what's really on people's minds, to acknowledge those concerns, and work from there to build things, not to tear people down.
* * *
Enough of that. One of the options on the table was a really neat hack from John Carr, in which repositories could be accessed via git or bzr.
So, everyone should see this as being a pretty sweet hack, I think. But it has many downsides, and not all of them were mentioned in the ensuing discussion:
The canonical repository format would be bzr, not git. Preferences for git often are based on its semantic model and repository format, so this would be going against developer preference.

Thus, bzr web tools would probably be used instead of git web tools. Personally I prefer cgit and gitweb to loggerhead, though loggerhead has improved quite a bit recently.

Bzr revisions would be the primary way to refer to code. You couldn't say "check revision 034fea225", you'd have to say "check revision 1". So in practice, bzr and git would not be equal, neither from the admin side, nor the developer side.

I was one of the 14 respondents of the survey that actually *use* bzr and git. I mantain many projects in bzr, but am in the slow process of switching to git. Initially I was attracted by the bzr idea that you can usefully refer to revisions by simple numbers, but time has convinced me otherwise.

I want my family jewels in a safe place. When I refer to a revision, I mean that revision and not another tree and history that happens to be the 35th in a series of patches.
Joe Shaw has a few more.
There is of course the important caveat regarding renaming, which many git proponents fail to acknowledge. But my instincts are that if git works for the kernel, its renaming heuristic failure rate should be equivalent to the rate of me starting a new file, but saying it was a copy, or my starting a copy and saying it came ex nihilo. But that's just my feeling -- I have no data on that.
apologies from a git supporter
As one who now prefers git, I would like to apologize to users of other version control systems, especially bzr: for the VCS BOF at GUADEC that wasn't, for the tone of git proponents, for the FUD, and for a general lack of respect. And for ongoing git UI crappiness, though it has improved quite a bit.
But I think that git's the best thing going, and so do most of the other survey respondents. We should figure out a pragmatic way forward that takes all perspectives into account, and I think that Behdad's proposal is a good start.