bcn: notes from the outskirts.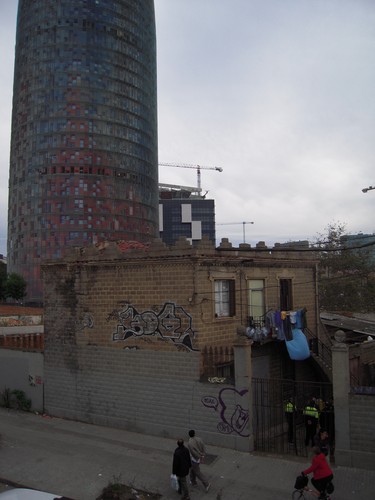 the cock of barcelona, evicting its inhabitants
22@ is the name given to the parasitic, life-sucking force that is engulfing Poble Nou. I snapped this photo biking by the other day: notice the cops in the lower right, fulfilling their functions as agents of property-holders.
I mean to write at some point about "good people and bad systems", but it is obvious to anyone at the wrong end of a porra whose interests the police serve. In this case, they are the Pinkertons, the private security service of the modern-day railroad trust, the unstoppable juggernaut of "development" in the city.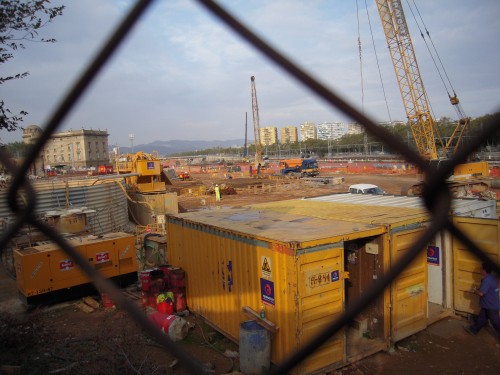 red clay, rolling to the badalona hills
Farther out, where I live, they talk about "revitalization", and the city's responsibility to neglected neighborhoods. I am deeply skeptical. Instead of fixing up decaying buildings, they prefer to demolish and build a kind of Disneyland yuppietopia -- gentrification just like in any other part of the world. Their care is not for those who inhabit the buildings, but for those who own them.
As an American, the whole "development" situation in Spain is incredibly frustrating: I know where they're going, I've seen it in the states. The US is just starting to reap the rotten fruit of suburban dissociation, but Spain continues to tear down the livable to construct the profitable. You will give reason to your own Kunstlers, don't you understand.
hack
A REPL for one of Guile's intermediate languages, and proof that Scheme will never be faster than C. Enjoy them both!