america of the turning leaf
European workers have it figured out. Jaws gape among my American friends when I tell them I have five weeks of vacation a year; stateside it appears more common to have just two or three. I've been off for about a month now. A pleasantry indeed.
I write from my folks' house in North Carolina, later to fly back to BCN this afternoon, along with a couple hundred other pairs of red eyeballs. It's been real nice stateside, to see a buddy of mine get married in the mountains, to tour the metropolis that is Los Angeles with some very alive minds, to putz around in raleighdurhamchapelhill with my people. Neither did the fall leaves disappoint.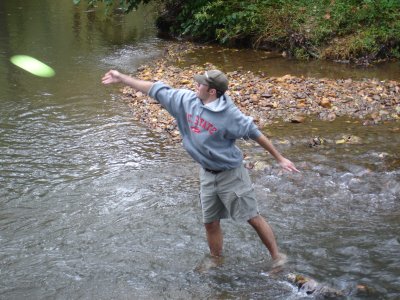 Also I got to play some discgolf!
used cd harvest
I have been crate diggin. From bestest to mediocrest:
Minor Threat, Complete Discography. Wow. If this had a banjo in it I'd call it a barn burner. But we don't refer to punk rock that way. Intense!
Jenny Lewis with the Watson Twins, Rabbit Fur Coat. A bit earnest at the beginning, but later so terribly natural. Not terrible-bad, mind you, terrible that conjures to mind images of dark clouds and pending storm.
Neil Young, Mirror Ball. Not sure on this one yet, not enough listens. I just buy anything by this guy.
Sonic Youth, Washing Machine. I must have had a tape of this at some point, I know the songs. Fills a hole in my Sonic Youth collection. Good stuff, but for your bucks buy their newer albums.
The Raveonettes, Whip It On. Fine, but monotonous -- get Chain Gang of Love instead.