paris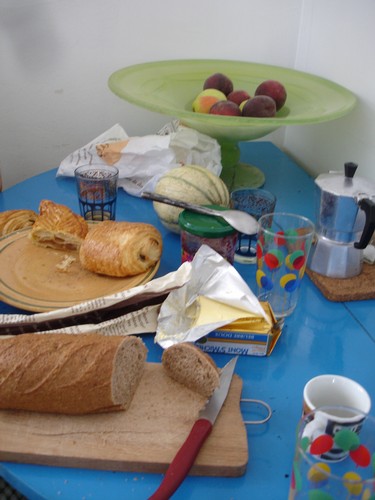 Real pleased with the weekend in Paris. Pleased because I got to hang out with some quality folks I hadn't seen in a while, pleased with the city, meta-pleased because the visit fixed the city for me. The last time I was there left a very grey impression.
The light is different there from here in Barcelona. Here it is a soup, generously spooned out by a well-fed sun goddess; there it is a garnish on a plate of wild mushrooms. Very dramatic when it breaks through the clouds, colors come out in relief.
Also interesting was the way time has unravelled the knots in us, leaving us a bit more simple, a bit more who we are.
read("/dev/summer", 1024) = 0
There is a palpable feeling here of end-of-summer. People are starting to come back from holiday, the days show an occaisional chill, it rains. Fine for me; I don't think I'll be spending too much time at work in September.
also
I broke yet another spoke on my bike. What's up with that? Before here, the last spoke breakage I had involved a bent wheel, a failed jump, and a deflated ego. These times have been due to my half-hour commute to work. Do the changing circumstances mean I lead a more boring life? Or perhaps do I inject an EXTREME element to commuting? Choose your own adventure!
update
Opened comments, not sure why they were off.